Dentistry today is very different than it was years ago.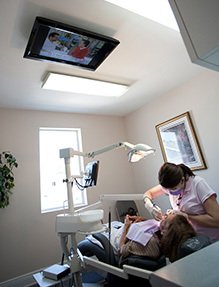 Modern technology allows us to do our job with better precision and more speed. Advancements in dental technology also make dental treatments more efficient and effective, and they improve the patient experience.
Whether they're saving you time, keeping you comfortable, or giving you the smile of your dreams, our state-of-the-art dental technologies will completely change the way you think about going to the dentist.
Your comfort is important to us. At Metairie Dental Centre we want your dental visits to be enjoyable and effective.
To help you enjoy your time with us, we offer several amenities:
Blankets and Pillows
We provide you with cozy blankets and soft pillows to help you relax during dental treatments.
TVs in Our Treatment Rooms
All of our treatment rooms have TVs in them so you can lay back and enjoy your favorite TV show or movie.
Headphones During Treatment
Music helps many feel at ease during dental treatments. We have a wide range of CDs for your to choose from.
WiFi Internet
For some people, work doesn't stop while they are at the dentist office. We want to keep you connected to work, friends, and family so we offer fee WiFi. You can update your status, surf the net, and catch up on emails.
Flexible Financing
We offer flexible financing options to help you keep dental care in your budget.
Family Dentistry in Metairie - Dr. Thomas Murphy, Dr. Bonnie Murphy